In last month's feature article, we discussed that a Six Sigma program must serve the corporate core ideology – profitability; the major functions of a quality system are monitoring performance and driving improvement; and we also concluded that using a good software package to handle quality information will significantly reduce the system implementation and maintenance cost. This issue and the next several ones will be devoted to the topic of how to make these theories work.
Recently I have learned that although most of the quality professionals are experts at the SPC software and Microsoft Excel, not all of them are processing the quality data in a systematic way by utilizing the concept of Quality Information System. And most of the time, quality professionals tend to focus on reducing the cost of defectives, and neglect the hidden cost of processing quality information – maintenance cost of a quality system.
So what is a Quality Information System (QIS) and what are the differences between QIS and SPC software? How does a poorly designed Quality Information System lead the elevated quality cost and recoil the cost saving from the improvement initiatives?
To answer these questions, let me start with a basic introduction of an authentic QIS. Similar to a Management Information System (MIS), a QIS contains processes and subsystems that can store and process large amount of data and provide intelligence information to help management control business performance, and direct business operations.
Different from a MIS, a QIS specializes on handling quality related data to drive continuous improvements. A well-developed QIS can
collect and share quality information from manifold sources within the organization

define key the problems and track the corrective actions

"learn" from the past failures and to prevent the problem from reoccurring

support and push forward the organization-wide continuous improvement
MRP/ERP type of software, such as SAP, BPCS or Oracle, are part of an MIS, but they are not QIS. As far as quality assurance concerned, in a MRP/ERP system, only the results of a process will be collected, and many qualitative aspects of the operational system and the process such as the root causes and the description of non-conformance are not considered. A critical drawback of this kind of software is that this kind of software is designed to only monitor the end results of a process, but not to facilitate the problem solving and preventing. Since MRP/ERP applications do not collect and store the information such as root causes and corrective actions to build up the Quality Knowledge Base, they are not smart enough to "learn" and "suggest" to direct quality improvements.
Similarly, the SPC software, such as Minitab, is not a QIS either, since this type of software is designed to accomplish project-based statistical calculations, but not to establish a solid system to consolidate and analyze the quality data from all aspects.
Contrary to MRP/ERP and SPC software, a QIS is a knowledge-based "smart" database. It will take advantage of the information that collected from the process, both quantitative and qualitative to help business identify the improvement opportunities, find out the root causes, build effective corrective actions, and proactively learn form the data and keep the potential problems from occurring.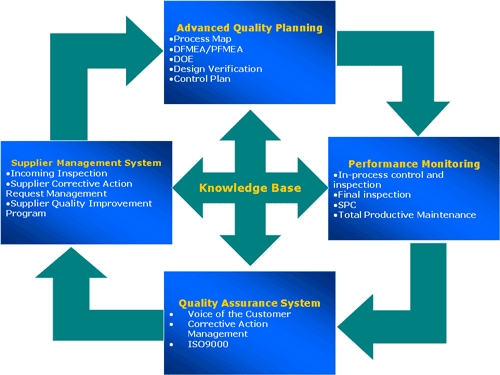 The graphic on the left illustrates example of such a QIS. This QIS contains five modules.
1) Supplier Management module, consisting Incoming Inspection Management, Supplier Corrective Action Management, and Supplier Quality Improvement Program functions.
2) Advanced Quality Planning Module, storing data of Process Mapping, FMEA, Design Verification, and Control Plan.
3) Performance Monitoring Module, hosting operational data and generating level 1,2,3 performance reports, and Total Productive Maintenance status.
4) Quality Assurance module, managing Voice of the Customer, corrective actions, and ISO9000 procedures and activities.
5) Center of this QIS is Quality/Process Knowledge Base, which will collect knowledge data such as failure modes, corrective actions etc., results of corrective actions to give user a chance to study the system behavior on higher level. Besides, the Quality Knowledge Base will feed historical summaries to other modules.
To help business implement a pragmatic QIS, we at QIT Consulting have developed two programs to facilitate the implementation of Supplier Management Module and Performance Monitoring Module. Find out more details of these programs and the services QIT consulting provides at http://www.qitconsulting.com
In the next issue, we will contemplate on what kind of information that need to be collected; what kinds of statistics that need to be calculated to make the system "smart enough" to direct continuous improvement; and how to use QIS to enhance the results and compensate for the shortcomings of the Six Sigma projects.
Copyright © 2003 QIT Consulting, Inc.