Recently, one of my clients complained to me when I introduced this supplier management model to him. "...the concept is fine, but only if I can do it... I don't have time for all these works", he said.
This supplier management model is fairly simple. The customer sends a Purchasing Order to the supplier, the supplier delivers the goods, the customer gives feedback on the performance, and then the supplier improves the product/service quality. The flow is simple and straightforward. But how much time does a supplier engineer really need to complete this cycle?
My client's complaint reminded me that several years ago, one of my engineers who's in charge of supplier quality used to spend almost 2 weeks each month preparing the monthly supplier performance reports. After digging into his routine, I found out that he had been working really hard in order to get all the reports out by the due dates. Imagine: he needed to collect all shipments' inspection results, send Corrective Action Requests to suppliers, collect supplier feedbacks, calculate sample size and defective quantity, and then calculate defective rate, for each shipment, for each major supplier, and he did this every single month. The most difficult part, he did all these manually! Well, just to be fair to him, he did use Microsoft Excel. Still, I wished I didn't ask him to do all these...
So what is my point here? Can this model really be adopted? The answer is YES, only if we have the right tool... Let's go back to the end of my story about my engineer. Later, we deployed a database to consolidate inspection results, once the database was up and running, the total report preparation time was reduced to 2 minutes. Every month, the only thing he needed to do was to click a button on the database to print out the reports. Since then, he can spend more time on driving the real quality improvements rather than dealing with the paperwork. He and I worked happily ever after... THE END
In Stone Age, man could walk at most 10 or 20 miles around his cave, but today, man can cross the globe and reach the moon. It is not about "only if we could" - what matters the most is "only if we have the right tool".
By: Logan Luo
QIT Consulting, Inc.
Send your comments to the author at logan.luo@qitconsulting.com
Supplier Quality Management System Version 2.0 - Based on customers suggestions and recommendations, in this May we released Supplier Quality Management System V2.0. New features in Version2.0 include:
Incoming Inspection Workload Management

Quick Start- Start the program from a system flow chart

Easy integration with MRP/ERP program (e.g. SAP)

More Supplier Performance Reports

Enhanced user interface

and much much more...
e-Document Control System Freeware Version - To show our appreciations to our customers, we decided to make this new product FREE so everyone can benefit from QITs applications. Highlights of the program include:
Capability to manage all types of electronic files.

Launch files with different formats directly from this application.

Perfect for ISO9000 documents, project files or engineering files and photos.
Quick Start - To ease the program implementation processes, two new features have been incorporated in our newly developed programs
Quick Start - Starting the program from a system flow chart and giving user a clear road map of program deploying.

Step-by-step help - it is a fully graphical instruction to guide user step by step from downloading and installing, data entry, generating reports to routine maintenance.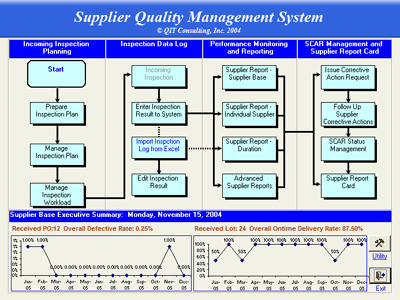 It is one of the three applications of QITs Supplier Quality Improvement Program
It can also be used as a standalone application
Inspection planning and inspection workload management

Incoming inspection record retaining and inspection results reporting

Corrective Action Requests generation, distribution and follow-up

Suppliers performances reporting and monitoring.
For corporation user, this application is also optimal to standardize, consolidate, and reconcile Supplier Performance Reports from different divisions.
For OEM supplier management, this application will help user keep track of shipment quality, and rate OEM suppliers performance based on historical shipment records.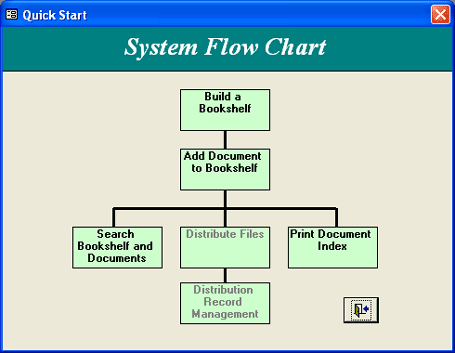 This is a freeware to help user manage electronic documents with different file such as Excel, Word, PDF, JPG, MP3, MPEG formats
Manage ISO9000 documents, project files, customer files, engineering files, and/or digital photos.
Create a bookshelf/folder for each ISO9000 element, projects or engineering tests.

Open Excel, Word, JPG, PDF, MPEG and/or MP3 files directly

Print out or output an index file

Search files by using file name, description, and etc.
If someone has forwarded you this e-mail and you would like to sign up for future information visit our website at http://www.qitconsulting.com
To change your e-mail delivery address, simply send us an email with your new and old email address.
To be removed from our email list, please click here.