Global Supplier Chain Management System for OEM/ODM Business
Overview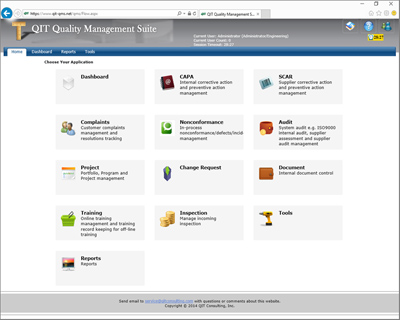 A German importer of hardware and building materials.
This company has an engineering development and testing center in Germany, an office in Singapore, and a team of inspectors located in Shanghai, China. Most of their 100 suppliers are located in China.
Major Issues
Prior to employing QIT Supply Chain Management System, the company did not utilize a computerized system for the handling of their inspection standards and inspection records.
The engineering center in Germany complained that the inspection team was using the wrong inspection standards and lost tons of money on defective parts
The engineering team in Shanghai complained that the Engineer Team did not provide an up-to-date inspection standard and in some cases, some products don't even have product Specís and inspection standards. The mismanagement of engineering standards had caused a lot of confusion and mistakes from their team.
By employing QIT's system, F company was able to implement a new business process that effectively linked the engineering team, inspection team and the suppliers.
Solutions and The New Business Process
The engineers in Germany now enter the product Specís and inspection standards into one centralized database. For the obsolete Specís, the engineers in Germany are now able to remove them from the system

The inspection team in China now can pull up the same product Specís each time they plan a lot inspection

The inspection team is able to enter the inspection results into the system from various locations in China

The suppliers can also enter their inspection results to the same system

The QA manager is able to review the lot dispositions and issue deviation requests to customers in Germany

The customer service team in Germany now can print out the the inspection reports and supplier inspection reports

All the suppliersí performance data can be seamlessly shared with the users in Germany, Singapore, China, or any place around the world

The QA managers can access the data and make decisions even when he is away from his main office. Due to the prompt decision making abilities that the system has prompted, the company is now saving millions dollars
The specific results have been very impressive
Deployed a next-generation CAPA system incorporating Company A's specific modifications at an affordable cost

Implemented a world-wide project bringing together their engineering teams, inspection teams, suppliers and customers from around the world

No headcount increase was needed to facilitate and maintain the program

Cultivated a collaborative quality culture

Purchasing, Quality and Supplier Management Departments from around the world now share real-time information online