Customer Complaints/Nonconformance Management System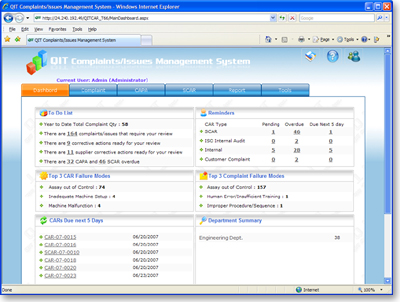 Overview
A major US household product manufacturer, which has
A Call Center in the US

10 distribution centers around the world

8 manufacturing facilities in China

Over 150 OEM suppliers around the world
Major Issues
Prior to employing QIT Customer Complaint Management system, the company used a database based on Lotus Note to management customer complaints.
The QA engineers spent 60% of their time on tracking CARs with local factories and OEM suppliers and prepared reports for senior management.

Ironically, similar problems happened again and again despite the local factories and supplier have reported the root causes have been resolved.
Solutions and New Business Process:
Step 1- Implement the Program and Collect Data:

Customers/consumers in the US and UK are able to submit their concerns and complaints through internet

Customer service representatives at the call center in the US are able to log in customer complaints from 800 service calls, emails and faxes

Sales representatives around the world are able to enter customer complaints and any concerns about the products

Step 2 - Analysis the Data, Define Key Issues and Issue CAR

QA Managers in the US HQ and China divisions are able to review and analysis customers complaints and define failure mode and customer usage pattern

QA managers and engineers then are able to issue CARs right after the product audits or whenever any issue was found

Step 3 - Resolve the Key Issues
Specific results:
Establish a global problem solving system in just few months with a affordable cost

No headcount increase was needed to facilitate and maintain the program

Customer Service, Sales, Quality and Supplier Management Departments from around the world to share real-time information online and focus on providing effective solutions for customers issues

Cost saving of 2 million/year* by effectively communicate the issues

Shortened problem solving cycle-time by 50%
Specific results: